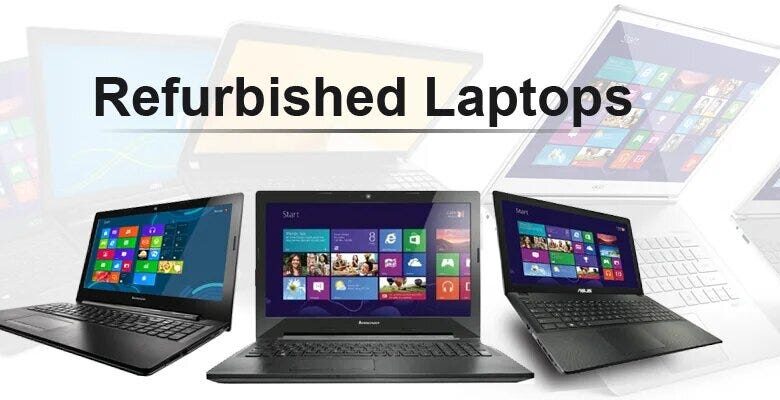 Introduction to Refurbished Laptops: Understanding the Basics
The laptops that are returned to the retailer or the manufacturer due to many reasons including software or hardware problems, and then inspected, repaired, cleaned, and resold are called refurbished laptops.
Reasons for Refurbishment
Customer Returns
Some laptops are returned due to many problems like customer dissatisfaction, minor defects, or cosmetic imperfections.
Over Stock or Open Box Item
An open box laptop is a brand new laptop that returns due to many reasons like it may break inside the box or the customer does not like the color of the laptop, so they return it. These types of laptops are inspected completely and labeled as Refurbished laptops.
Off-lease Laptops
Many companies lease laptops for their employees, and when the lease is off the laptops are returned back. These off-lease laptops are then inspected thoroughly before going to be on sale.
Refurbishment Process
Thoroughly Inspected
All the parts of laptops like software and hardware are completely inspected to detect the damages.
Repair
The detected damages are now repaired properly. It includes repairing cosmetic imperfections, replacing and fixing faulty parts, and upgrading components as according to the modern need.
Testing
The laptops go through the complete testing to remove any remaining issue on overall system performance.
Data
All the previous history or data of the previous user is wiped from the laptop for privacy concerns.
The Refurbished Laptop Market: A Thriving Industry
No doubt, the refurbished laptop market is a thriving industry. The reason is, this industry not only addresses economic and environmental considerations but also aligns with technological advancements. According to futuremarketinsights, "the global refurbished computers and laptops market is expected to thrive at a CAGR of 10.2%. The market value is projected to increase from US$ 17,854.1 million in 2023 to US$ 47303.2 million by 2033. In 2022, the global market exhibited Y-o-Y growth of 9.6% with overall valuation crossing US$ 16,331.4 million. Currently, the refurbished computers and laptops market forms around 26% of the global refurbished electronics market. As people are recognizing the importance of refurbished laptops, it is expected that this industry maintains its graph in upward direction in future.
What Does "Refurbished" Mean for Laptops?
The used item that it recycled after a complete inspection is called a refurbished product. Same as the laptops that have already been used are inspected, repaired, cleaned and then resold at a lower price as compared to new ones called Refurbished Laptops.
The Refurbishing Process: How Are Laptops Restored to Like-New Conditions?
The refurbished laptops are completely inspected, upgraded( in some cases), and mostly don't have any cosmetic imperfections. So they have the same characteristics which brand new laptops have like hardware, software, and operating system. So you can buy and use them like new ones but at a lower cost.
Benefits of Buying a Refurbished Laptop
There are many benefits of buying refurbished laptops. Some of them are stated below;
Eco-friendly
Refurbished laptops are eco-friendly as refurbishers recycle the old laptops and stop them to go to the waste. Because if these electronic waste are not recycled, it pollutes the ecosystem badly. Like when electronic-waste is exposed to the heat, toxic chemicals are released into the air and as a result damaging the atmosphere.
High in Quality
As mentioned above, these laptops are thoroughly inspected before being sold to anyone. And you can buy a quality laptop which can operate like a new one. However refurbished laptops may have some cosmetic imperfections like few scuffs or scratches, but they don't affect the speed of functionality of a laptop.
Save Money
As refurbished laptops have already been used, and may have some cosmetic imperfections, those imperfections can often lead to an even bigger discount but do not worry about their efficiency as they are tested, and repaired very well and give you a peace of mind by paying less and getting more results.
Warranty
If you buy refurbished laptops from trusted and experienced sources, they will give a warranty from a month to a year. It may vary from company to company. Techable offers you a warranty from a month to three years with a full refund. This will give you a peace of mind that you are protected when anything goes wrong.
Availability of Reviews
When a new gadget comes to the market, you may face the problem, having a lack of reviews. And it increases the risk for you to buy a thing which is not used by more people. But in the case of refurbished laptops, you will not face such issues. As these laptops have been in the market for many years and used by many people. You can find plenty of authentic reviews.
Potential Drawbacks: Risk to Consider When Purchasing Refurbished Laptops
It is true that refurbished laptops have many benefits, however it has some drawbacks too. Read on to find out some of its drawbacks;
Cosmetic Imperfections
As the refurbished laptop has already been used, you may experience some scratches, dents, and dings on it. And it may not be removed at all.
Warranty Issues
Some refurbished laptops have short time warranty as compared to brand new laptops. And you may experience less safety against potential issues.
Outdated Features and Hardware
Purchasing refurbished laptops increases the chance of not getting the absolute cutting edge features and hardware. Like they may have intell's 11th gen core processors however the new laptops are equipped with 12th Gen intel core chips which obviously performed better. Also hardware like touchpad size, resolution, screen aspect ratio, and keyboard designs may also differ from the new laptops.
Considerations for Future Upgrades
As discussed above, the refurbished laptops may come with the older technology so you have to upgrade it sooner.
Potential Battery and Thermal Challenges
The battery of a refurbished laptop degrades over time and you won't get the same result as a new laptop.
Security Concerns
Refurbished laptops may have viruses and malware when you buy it from either owner, manufacturer, or third-party seller.
Shorter Longevity
As refurbished laptops have already been used, they may experience cosmetic imperfections, wear and tear, which as a result reduce its longevity as compared to brand new laptops.
Where to Find Reliable Refurbished Laptops
Purchasing refurbished laptops is not a very big deal. You can go and buy them from a trusted company or seller who has following properties mentioned below;
Trusted Source
Buy refurbished laptops from a trusted and experienced source. Who inspected them thoroughly and brought them to you like a new one at the lowest price. You can visit techable.com and backmarket.com to buy refurbished laptops without worrying about the performance of laptops. As these sites have a support team that is always available for you whenever you need us. Our goal is to fully satisfy the customer.
Guaranteed Warranty
The sources that offer warranty, which make laptops more safe to buy and use. Like our website techable.com. We guarantee the product we sell with 30-day returns and 90 day warranty up to three years warranty comes with live tech support.
Tips for Making a Smart Refurbished Laptop Purchase
The type of tips for purchasing a smart refurbished laptop will depend on your personal choice and need. Here are some tips mentioned below that help you to make a final decision about purchasing it.
Warranty
You should check for warranty to make sure that you have some protection in case of any problem.
Source
Purchasing refurbished laptops from a trusted source can give you a peace of mind to assure you a protected refurbishment process.
Specifications
Before buying either refurbished or new laptops, make sure to check that they meet your needs in terms of storage, performance, or features.
Return Policy
If you purchase refurbished laptops from a manufacturer or seller who has a reasonable return policy, it will obviously give peace of mind. Techable.com will give you a 30-days money back guarantee in case customers are not satisfied.
Conclusion: Making Informed Decision About Refurbished Laptops
At the end, we can say that refurbished laptops are thoroughly inspected used laptops that are available at the market at lower costs with the same functions as that of a new one. And when you buy it from Techable.com or sell it at websites like sellmac.com, we strive to be the best. Every seller goes through an intense screaming procedure before selling their products on Techable.com. We assure sellers and buyers that we are the best in the market.